The Brimpts Beefbox is an opportunity to purchase top quality
South Devon (Dartmoor) beef direct from our farm on Dartmoor.


The beef is the result of selective breeding using traditional farming methods.
Each box contains a selection of cuts including:
Dartmoor Rump steaks
Topside Devon Beef
South Devon Beefburgers
Each dartmoor beef box contains something for everyone, but we can make up a beef hamper to your requirements, please call us on: 01364 631250
The beef boxes weigh approximately 8-15kg and only contain the highest quality prime bred devon beef.
Delivered to you in a cool box.
For easy storage - each cut of dartmoor beef is vacuum-packed
and placed in a box suitable for home freezing.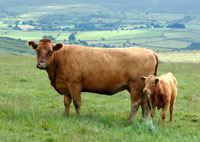 Brimpts Farm is situated in the East Dart Valley in the very heart of Dartmoor. The fields surrounding the ancient Duchy tenement stretch down to border the River Dart. The scenic surroundings provide an idyllic location for Andy Bradford's herd of prime South Devon cattle. The cattle are born and raised on the farm under the experienced eyes of Andy who has farmed at Brimpts since he was a boy and his parents before that. The wealth of knowledge gained by Andy and his family over the years is invaluable to the production of Brimpts Beefboxes. The beauty of dartmoor beef from Brimpts is its 100% home-reared resulting in supreme quality devon beef that's deliciously flavoursome unrivaled by any Supermarket.
email us:info@brimptsfarm.co.uk
email us:info@brimptsfarm.co.uk
The Beef Story | Devon Beef Hamper Contents | Order Devon Beef Hamper | Beef Recipe Ideas | Contact Beefbox
---
Part of the main Brimpts Farm Site offering:
Conferencing . Accommodation . Corporate Activities . Group Booking Specialist
More from the heart, in the heart of Dartmoor www.brimptsfarm.co.uk